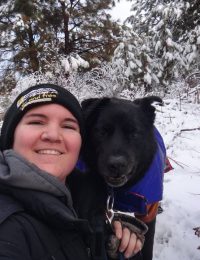 Associate Veterinarian
Dr. Barton joined our team in November of 2018. She earned her Bachelor of Science at Oregon State University in Zoology and her Doctor of Veterinary Medicine at Ross University (St. Kitts, West Indies) and completed her clinical year at Iowa State University.
Dr. Barton is a dog musher both recreationally and competitively. She has 2 Siberian Huskys (Wingman and Larka) and an antique Lab. mix (Sasha.) She also has 2 cats (Siri and Ko.)
The challenge of being the voice for the animals is what Dr. Barton loves about the veterinary field. She also enjoys client communication and helping to educate owners so that they can make informed decisions for their pets. The days are always full of excitement here at the clinic…there is rarely a dull moment and we love having Dr. Barton as an associate at Sisters Vet Clinic.